AFRIYEA GOLF ACADEMY
The Satellite and Principal Golf academy on the continent of Africa, as well as Uganda's Number one Golf Academy.
 
SWING WITH US TO THE TRANSFORMATION ANY TIME!! ANY DAY!! AS YOU LIVE TO INSPIRE
                
BUDDING PRODIG TO FLY TO VENICE, ITALY
The academy budding star earns a trip to Venice, Italy, where the kids will perform master pieces at Venice, Italy.
 
The event, which was co-sponsored by NCBA and US Kids, drew 101 youngsters from ten countries to show off their golf skills and served as a qualifying tournament for the World Junior Golf Championships in Venice, Italy.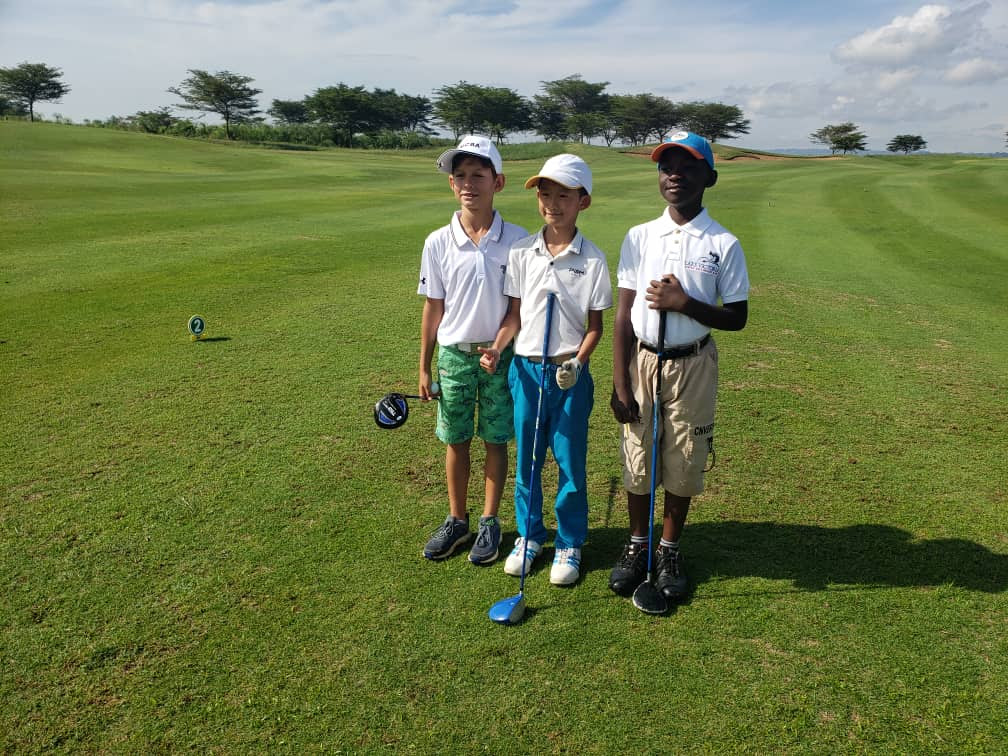 Jordan van Royen, from South Africa, and Shuhan Peng from China and Polster Kalenzi are some of the young stars that made up the 9-year-old category, Polster from Uganda, and in particular a student of AFRIYEA Golf Academy, the number one golf academy in the country, put in superlative recital that earned him a spot on a list of ten (10) students from copious countries will take wing to Venice, Italy in August 2022.
Paul Kalenzi, a 9-year-old , shot 86 and 96 to trounce his imminent  competitor, Jordan Van Royen of South Africa, by 6 strokes and clobbed the silver medalist by 19 strokes to romp ahead his category at the water- environed course
 
Paul told our media team, "I am really delighted for this win, and I truly didn't achieve it alone." He said, "My coaches had a role in all elements of my game from the tee box to the green, and mentorship."

I was accompanied by Joseph Cwinyaai from the AFRIYEA Golf Academy, who kept me cool even though the game was highly competitive. On the last day, when I was on the verge of losing against Jordan, a very good player, the coach kept me calm.
 
Coach Joseph Cwinyaai's advices are all that I required to win, and I am grateful that the academy supplies all of these game approaches.
 
Whereas In a news conference, tournament director Emmanuel Kasio said he was highly impressed by Kalenzi Polstar's calm personality and patience in his game. He won his division comfortably, and we wish him luck in the qualifying round.
 
 
 
 

GOLF THE UNFULFILLED GOLF FANTASY
A campaign aiming at increasing awareness about the development of junior golf in Africa and how the AFRRIYEA Golf Academy is using a variety of strategic interventions to improve the quality of life in Africa through golf, education, life skills, and environmental sustainability.……….Watch video…………… 

JUNIOR GOLF CAMP 2022
With a boost in equipment, the junior golf camp usher in on 18th April, 2022, with the goal of providing opportunity for children from all around Uganda to come and experience all aspects of the game.
 
The camp assists in introducing the children's game while keeping in mind the goal of building a firm foundation a young generation of junior golfers.
 
This junior camp was designed to include children of all ages, abilities,in an inclusive, diversive and equitable approach and professionally designed to teach the fundamentals of golf or to whet the skills of existing juniors in a professional manner, allowing them to play in a fun-oriented manner while enjoying mentorship, networking, golf rules, and skill training.
 


WORLD EARTH COMMEMORATION:
Earth Day is the world's largest secular celebration, with over a billion people participating each year in a day of action to improve human behavior and generate global, national, and local policy changes.
Currently, the fight for clean water, a plastic-free environment, pollution-free environments (air, land, and water), forest restoration, and other environmental issues is intensifying, as the effects of climate change become more obvious by the minute, hour, and day.
 
Following the global outrage over climate change, which affects everyone,
The Afriyea Golf Academy, in collaboration with the Ministry of Water and Environment, the Toro Botanical Gardens, the Toro Club, and many other environmental related organizations, joined billions of environmentalists to observe the World Earth Day of 2022 with the theme "Invest in Our Planet."
The academy and its partners planted 400 natural trees as part of their commitment to greening the globe through tree planting, plastic waste disposal, and volunteer cleaning and sensitization among other activities.
 Juliet Nyakato, a 6-year-old academy student, said that trees are a part of our daily lives because they give us with wonderful shade while we play golf, and they also serve as homes for beautiful birds.
 
 
 
 
 
MORE VICTORIOUS UPDATES
 
.

Edward Robogonya put up a fantastic performance at the start of April, producing exceptional results in the second edition of the equity Rwenzori, but he is hungry for more.
The Fresh Academy graduate finished second in the first edition of the tournament, but went on to win the second.
 
Rubongoya stated to the press that if he wants to stay at the top, he must improve.
 "I need to step up my game," he remarked, before adding, "My Coach has given me excellent training, so I should be able to perform better."
To win, the sixteen-year-old beat out a field of 71 amateurs who battled on Tooro Club's par 70 course.
"I'm overjoyed to have won the net category, but I'm sad since my goal was to shoot -7, but I missed a number of short putts, costing me," he said.
Rubongoya credits his teammates for providing him with a positive environment in which to perform well and achieve success.
Saul Kusemererwa, Edward Nyaita, and Jimmy Bengura are among the senior players on the course.
 
Rubongoya not only won his division, but also took first place in the overall rankings with a net score of 66.
In April, Amon Bwambale was a guy to watch after finishing second in the tusker malt event, which was won by Joseph Cwinyaai.
Amon is a Seeta High School student at the AFRIYEA Golf Academy in Kampala.
 
HAPPY NEW MONTH

As we approach the halfway point of 2022, we hope that this new month ushers in a new chapter of fantastic adventures and unquantifiable opportunities in all of your life activities, but it also serves as a reminder to keep focused on our yearly obligations.
We believe there is still room for progress until the year 2022 is over.
Everyone who participates in our programs aimed at improving people's quality of life via golf, life skills, and education, among other things, is valued and recognized.
Because of your continued mentorship and financial support, we're able to do what we're doing.